DATE:

AUTHOR:

The Thryv Product Releases Team
BC Mobile App
BC Calendar
BC Marketing
Business Center Pro Editor and Mobile App Updates
DATE:
AUTHOR: The Thryv Product Releases Team
What's New?
1. Pro Editor​
(Launch Date: 10/02)
Business Center Unlimited Package, new feature Pro Editor will boost your email marketing power with these amazing new features:
Build auto email marketing campaigns or announcements​.

View and select from the 200+ templates gallery. ​

Send unlimited Pro Editor marketing messages.

Create a marketing email template from scratch or modify an existing template.

Choose template categories, About Us, Newsletter, Welcome, Survey, Feedback, Service Promotions and more.

Select featured vertical specific templates or Customize your own email marketing templates.

​Enhanced editing functionality to, drag & drop content, update text formatting.

Upload multiple images and videos and link social pages or add Gif's and stickers.

The ground-breaking feature of AI Copy Assistant, will craft compelling and engaging content effortlessly to transform your idea's with captivating content to reach your audience.
Business Center users with a Plus & Professional package will be able to test the functions and see the potential of the Pro Editor. Enabling you to test out the feature and explore its fantastic functionality before making a purchase decision allows you to assess whether you'd like to upgrade.​
Read the article to learn more by clicking here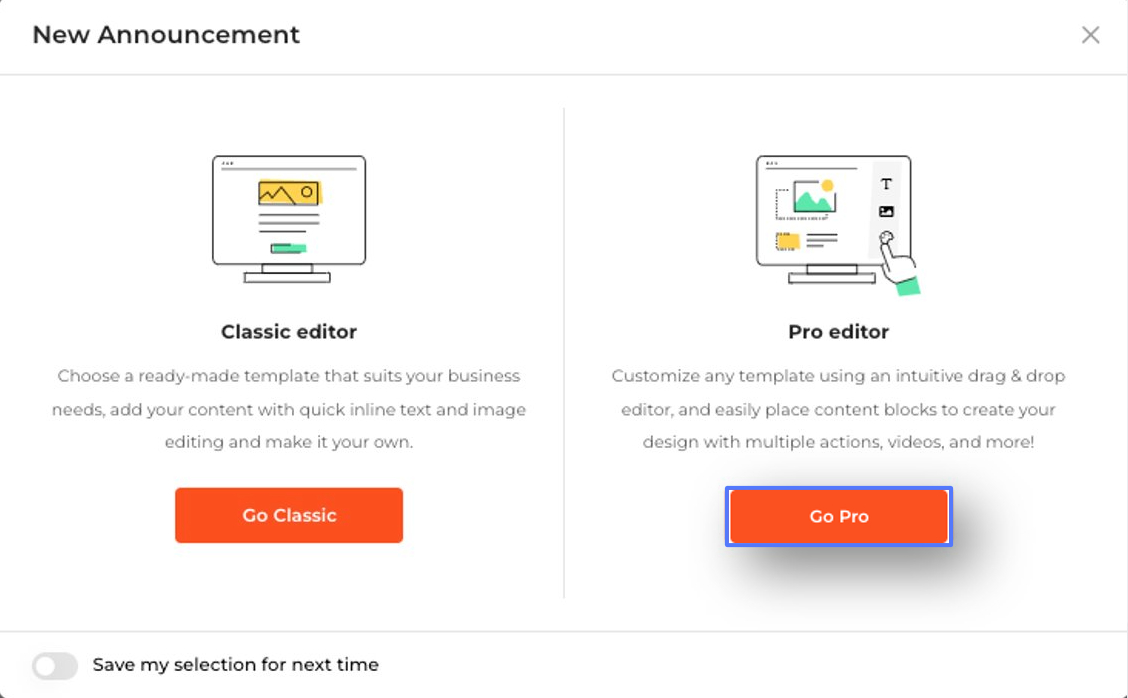 Pro Editor Template Gallery​
With the launch of the new Pro Editor, we will add an additional templates gallery to our Marketing offering. Users can still access and use our Class Templates (what we know today), and they will also be able to access the Pro Template Gallery​

The new Pro Editor Template gallery is loaded with 200+ templates for the Pro Editor feature launch and we will be adding more templates every month to build out the Pro Editor gallery even more​

With Pro Editor we have added new template categories for users to choose from with different communication intent, i.e. About Us, Newsletter, Welcome, Survey, Feedback, Service Promotion, & More!​

Users can choose their template from their vertical specific templates, which will appear in the featured section, or they can choose from any other design and customize it to make it their own.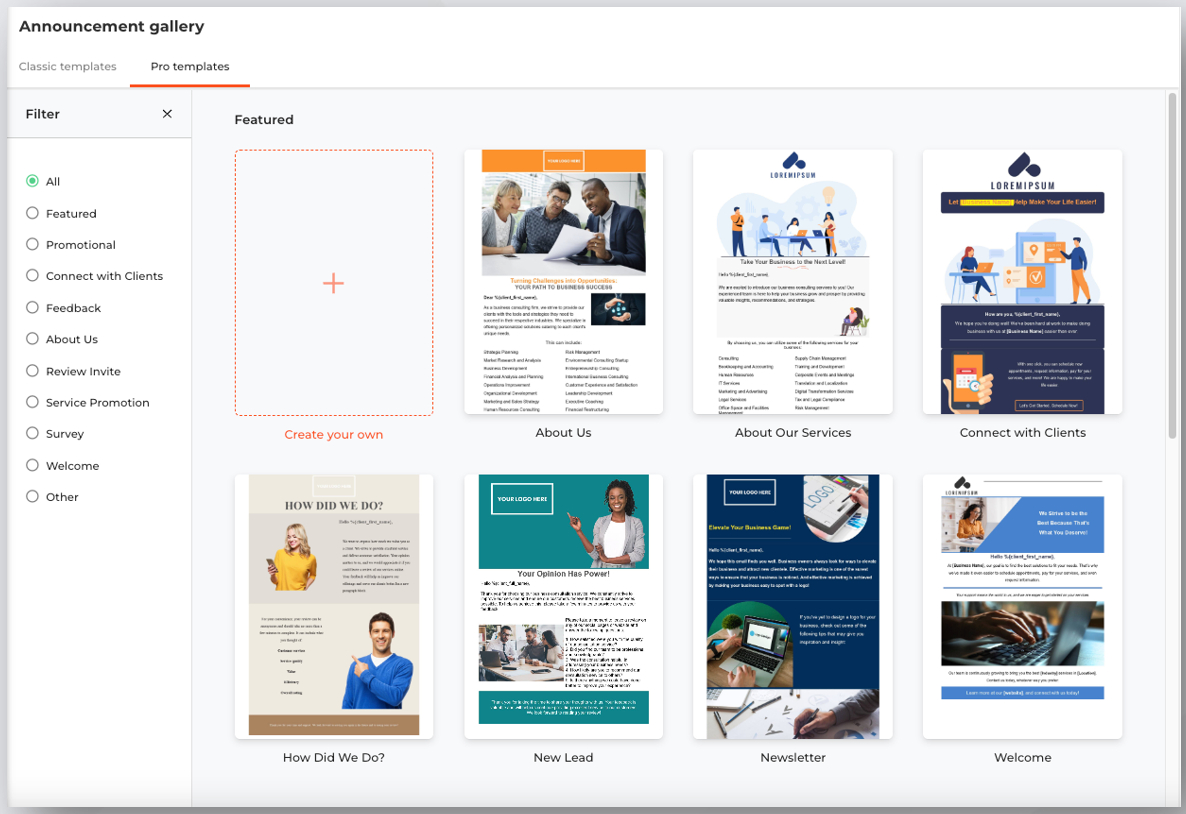 Pro Editor Editing Functions​
Once a template is selected, users be taken into the Pro Editor, where they can use the various editing tools to customize their campaign.
Enhanced Editing Options:​
Drag & Drop Content​

Formatting for Rows & Sections​

Multiple Images, Video, Icons​

Multiple call to actions​

Seamless Social Links​

Library of Stickers Powered by Giphy​

Library of Gifs Powered by Giphy​

AI Copy Assistant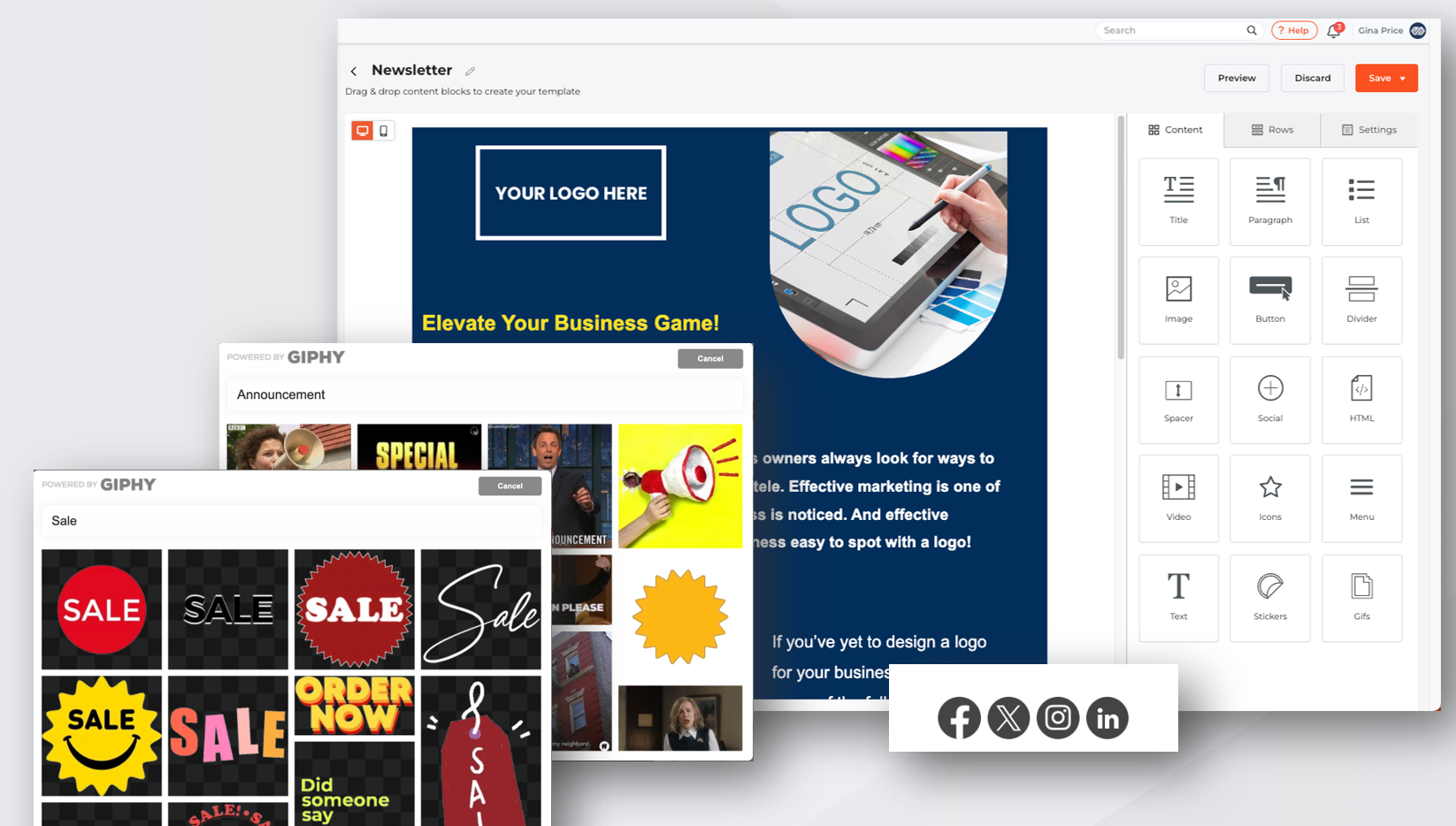 Pro Editor AI Copy Assistant​
We're thrilled to present this groundbreaking feature, designed to revolutionize your content creation experience.
With the AI Copy Assistant by your side, crafting compelling and engaging copy has never been easier. Whether you're a seasoned marketer or just starting your journey, this powerful tool is here to help you transform your ideas into impactful, persuasive, and audience-captivating content.
Say goodbye to writer's block and hello to effortless, outstanding copywriting!
Effortless Content Creation​
Click into a text box​

Select the AI Copy Assistant​

Enter Prompt​

Apply 
Learn more about AI by clicking here
---
Improvements
Here are a few cool new improvements we have releases this week or coming soon up help you use Thryv efficiently. 
1. Calendar Settings​
(Launch Date: 10/02)
We are excited to announce that we are giving Calendar Settings a fresh new look to align with the redesigned Calendar tab in the Business Center.
In addition to the visual update, we are introducing enhanced customization options that empower you to personalize the information displayed on your calendar. ​
Calendar Setting Options:​
Business Settings (Admins Only)​

Set the availability for appointments for the business​

General Availability​

Staff can set their personal availability for appointments​

Content Display​

Slot Colors ​

Customize time slot colors to reflect the staff assigned OR the service scheduled​

Slot Increments​

Choose how time periods appear on the calendar
Access your Calendar Settings on the go with our new mobile capability. Whether you're in the office or on a business trip, you can easily customize and manage your settings calendar directly from your mobile device.​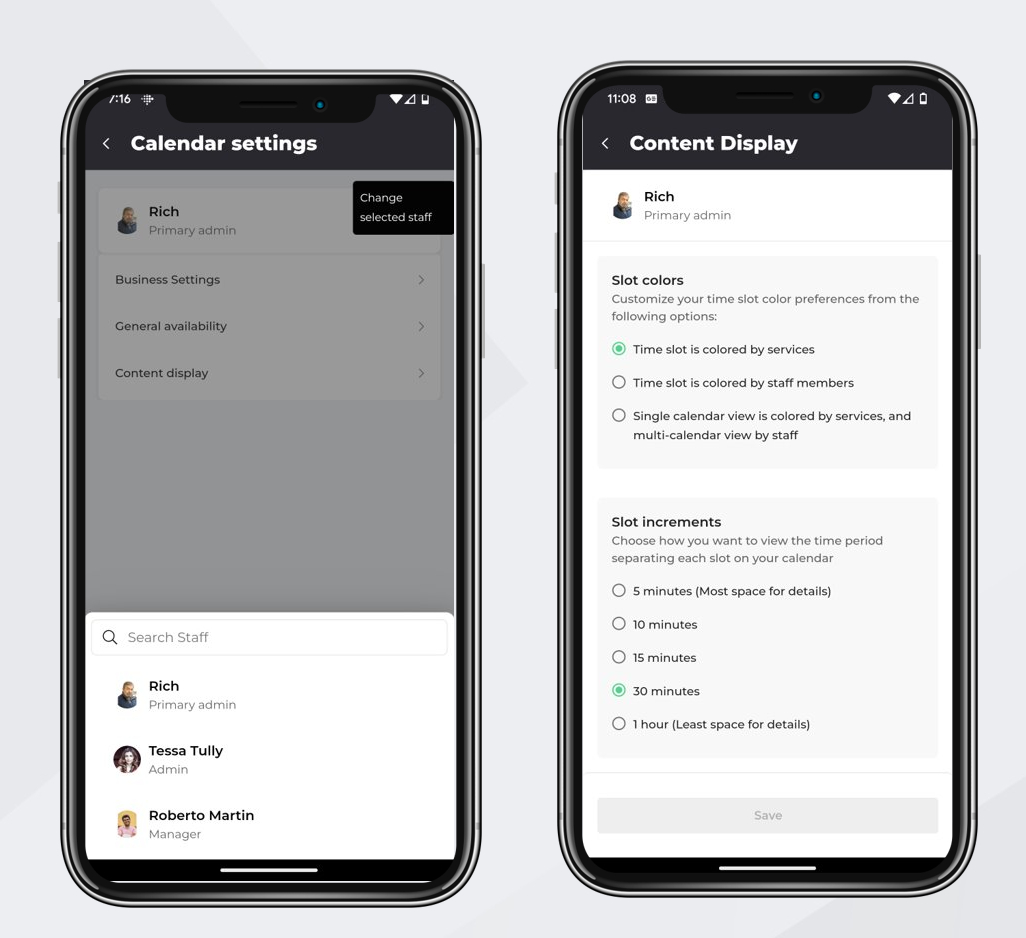 ---
2. Caller ID (iOS Only)​​
(Launch Date: 10/02)
Currently, when a customer calls a staff member who has the Business Center Mobile app installed on their mobile device, the mobile app can't recognize the customer calling as a contact in Business Center.​
​This new feature will change that. Once it's in place, when a customer calls a staff member who has the Business Center mobile app installed, the app will automatically identify the customer as a contact in Business Center .
This upgrade will make it easier for staff members to offer personalized and efficient customer service. Plus, they won't need to save business contacts on their personal devices anymore.
Details:
Business Center users will be able to easily identify incoming calls as contacts in the CRM.​

Save time and improve customer service by quickly accessing contact details during phone calls.​

Staff members will no longer need to save business contacts on their private devices, ensuring privacy and security.​

Helps businesses maintain control over their client information by not allowing staff to have a list of clients saved on their personal phones.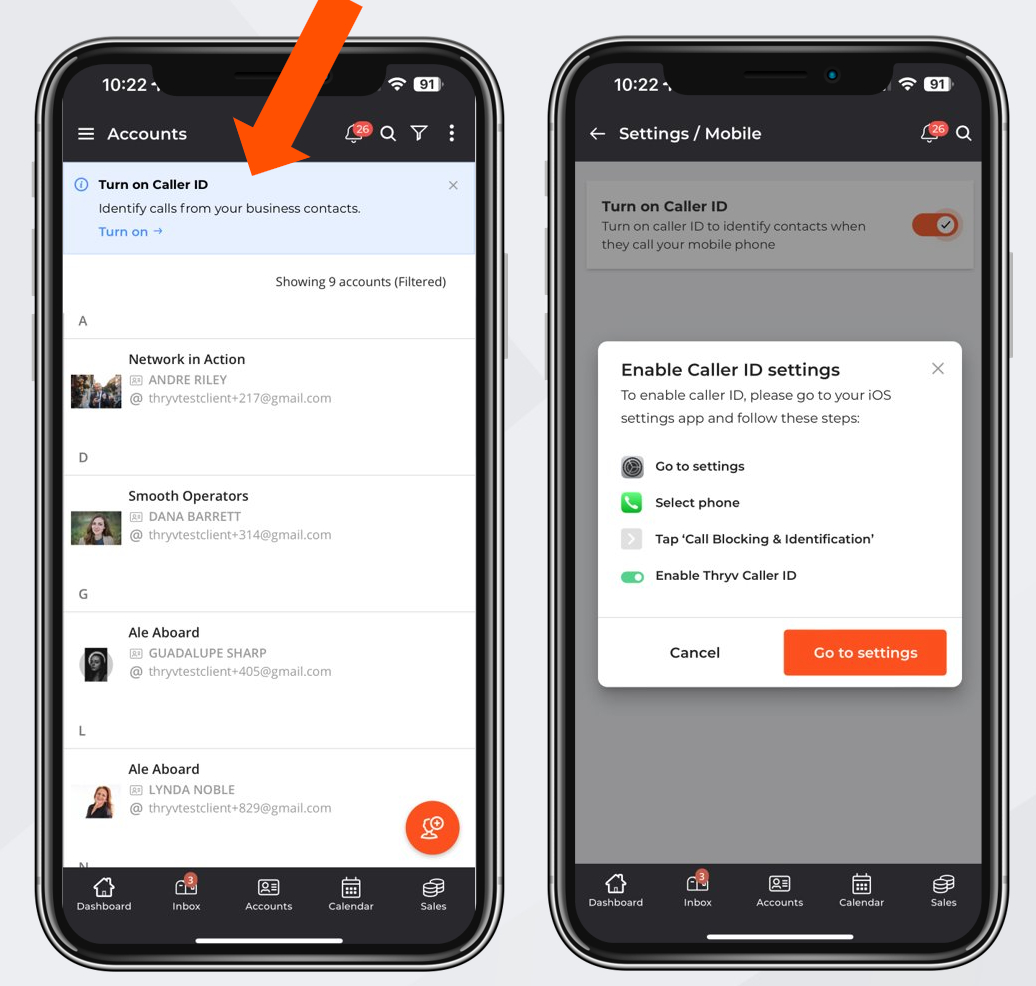 ---
3. Mobile App Layout Redesign​
(Launch Date: 10/02)
Improve usability of the Business Center mobile app and added functionality that existed the desktop platform but was missing from the mobile app experience.
Details:
Enjoy a more consistent, easy-to-use, and clean mobile app experience​

Discover new features and improvements with an updated and more intuitive design​

Access accounts settings more easily with an improved and better-looking menu design​

Quickly navigate the platform with additional visual indications of where you are in the app​

Keep track of your account setup progress with the addition of the 'Getting Started' setting to the mobile app, which will indicate items that may still need to be set up within your account.​

Easily access important features with an updated and more user-friendly Bottom Navigation Menu
​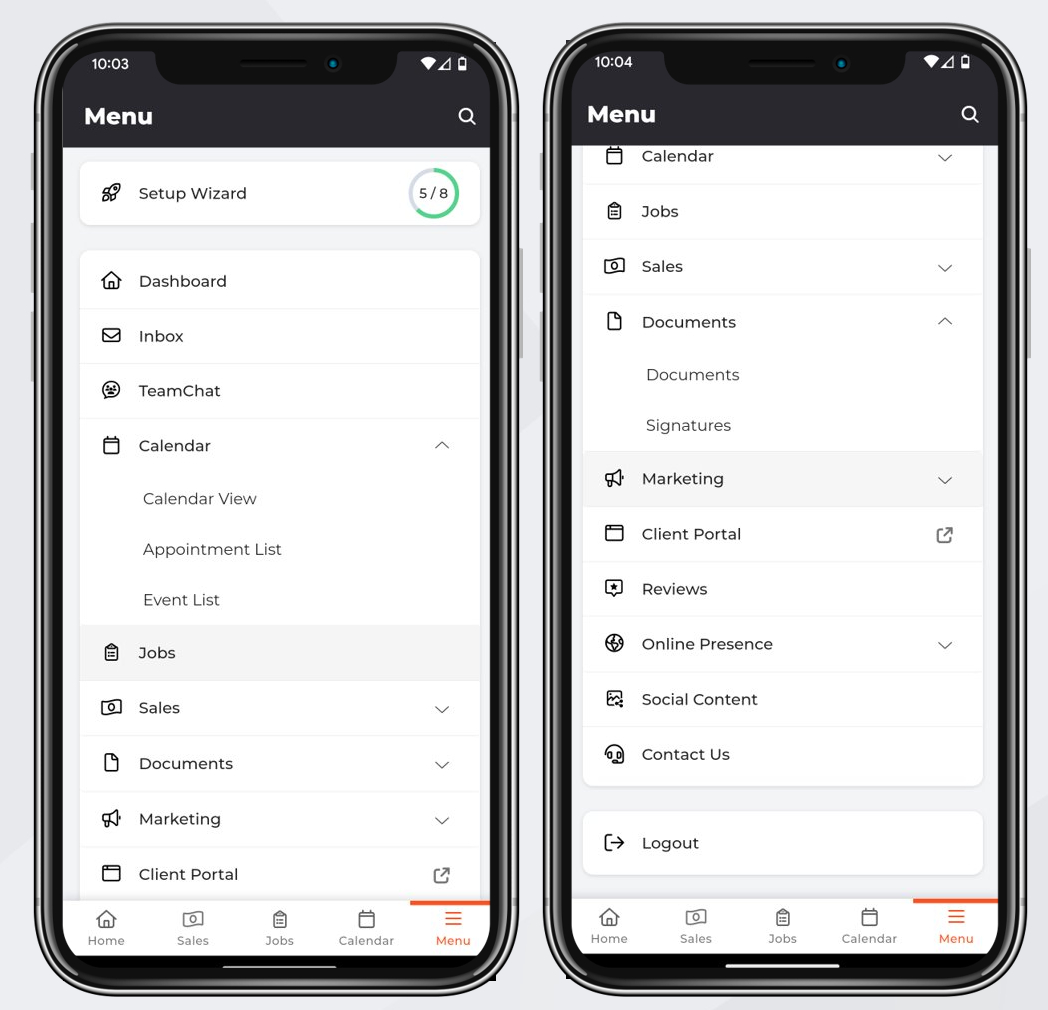 ---
Thryv Version 6.18.27