DATE:

AUTHOR:

The Thryv Product Releases Team
BC Sales/Estimates/Invoices
BC Calendar
Marketplace/App Market
Calendar Month and Agenda View, Invoice Reminders, and Mailchimp
DATE:
AUTHOR: The Thryv Product Releases Team
What's New?
1. Calendar Month View- Start Time Display
(Launch Date: 09/19)

We've been listening to feedback from Business Center users, and we've made an important change to the New Calendar User Interface based on their input!

In the updated calendar, we are adjusting how information is displayed in appointment tiles for the month view. Previously, the start time was not in the most convenient place, but we are moving it back to the top line for the month view.

This change makes it easier for Business Center users to see their monthly appointment lists and the start times for each appointment.

Details
Quickly see the start times of your appointments. ​

Easily organize and plan the month with a clear view of appointment times.​

Improved usability for Business Center users based on their feedback.


---
2. Calendar Agenda View
(Launch Date: 09/19)

We're giving the Agenda View in the New Calendar User Interface a fresh new look!

This makeover makes it easier for you to see appointment times, customer names, and the services clearly and understand them better.

Details
Clearer appointment times and details for easy viewing.

Improved visibility of customer names and their services​.

Better user understanding of appointments.​

Staff providing the service is color-coded for quick identification.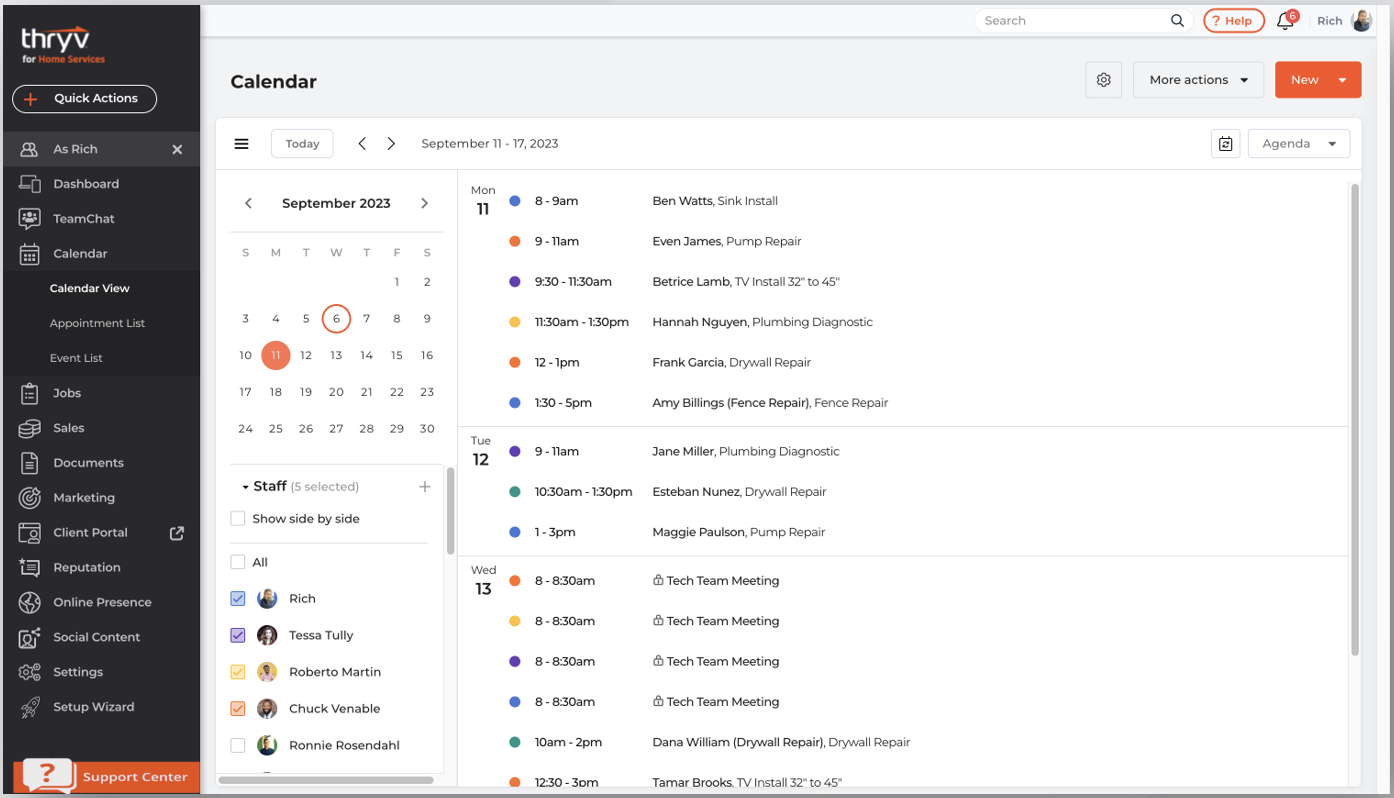 ---
3. Invoice Reminders
(Launch Date: 09/19)

The 1-hour option to send a reminder about an open invoice to the Business Center user or the customer is being deprecated in all new Business Center accounts.
We are deprecating due to the inconvenient timing of the reminder being sent out. ​
​
Details
For existing Business Center users that have this option selected in settings, the '1 hour before' option will be sent out at 9:00 PM the day before.

And the invoice reminder '1 hour after' option will be sent out at 9:00 AM the next day.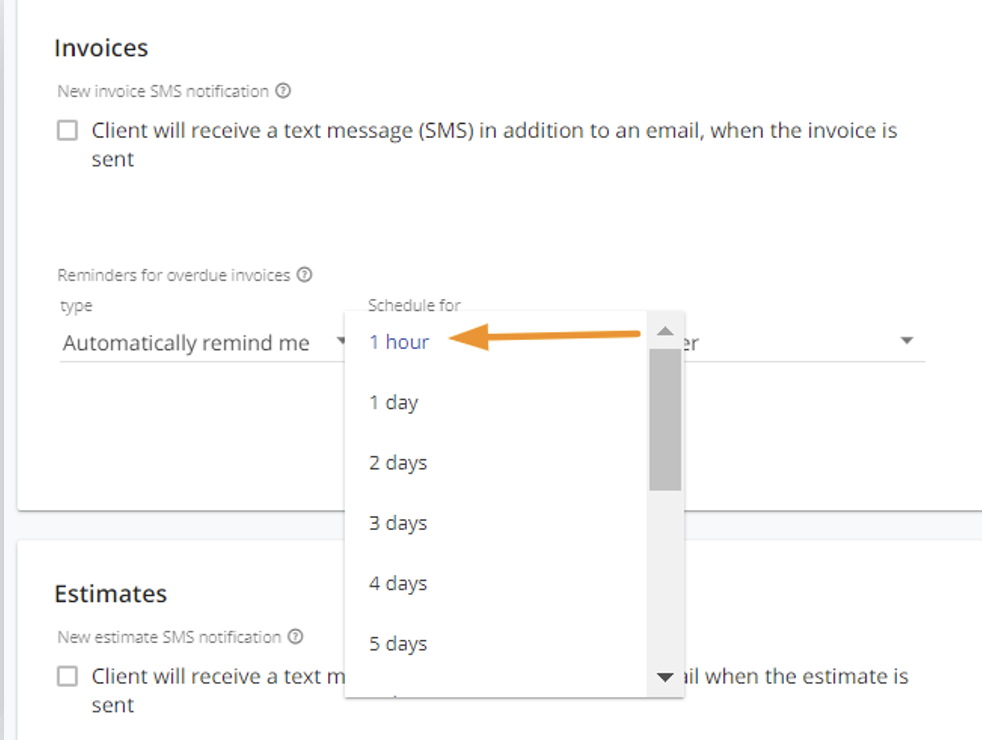 ---
4. Mailchimp
(Launch Date: 09/20)
Our Thryv Clients asked, and we listened! Our new and improved Mailchimp integration offers our Thryv Clients the following new features: ​
Streamlined setup and sync options​

Insight into the time, date and status of the last sync​

Ability to sync a contacts company, title, tags and custom fields​

Improved integration messaging
Problem Solved
Fast and easy set up results in a quick exchange of contacts between Thryv and Mailchimp. The wide range of contact fields able to be synced results in a more robust client contact card within Thryv.​
*Current users will have to reconnect to their MailChimp account to continue using it.
Reference our Mailchimp Support Center article here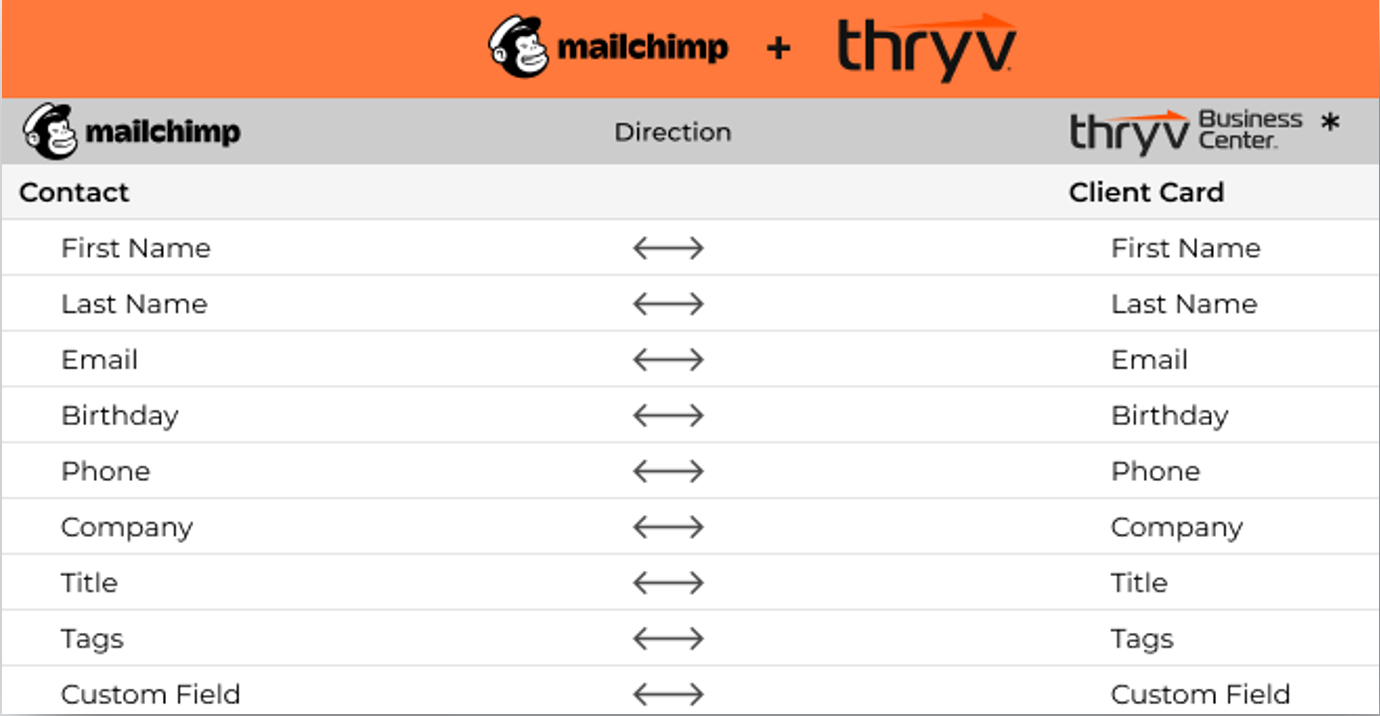 ---
Thryv Version 6.17.26