DATE:

AUTHOR:

The Thryv Product Releases Team
Marketing Center
Websites
Command Center
Thryv 6.16.21 - Command Center and Marketing Center
DATE:
AUTHOR: The Thryv Product Releases Team
What's New?
1. Thryv Command Center Beta
(Launch Date: 8/1)
We have launched a new product called Command Center. It is a first-of-its-kind communication platform that combines email, social, messenger apps and phone & video calls into one powerful application. Never miss another customer communication with Thryv Command Center.
Thryv Command Center organizes all of your conversations in one centralized inbox so you can effortlessly communicate with customers and team members
Command Center is the front door into the Thryv Platform. You can get started with Command Center and add Business Center (Existing CRM Product) and Marketing Center. Thryv Platform will also provide a robust marketplace with products, services, integrations, and offers with key 3rd party applications (QuickBooks, JotForm, MailChimp and 20+ more).
Offered as a free forever subscription, you can easily get started to explore the new product.
Details
Command Center's Inbox is the first-of-its-kind tool that combines all conversations with your customers from 12+ channels in one spot, with a single conversation flow per client, eliminating the need to switch or piece together conversations across channels.

The channels we offer are Phone, SMS, WebChat, Facebook, Instagram, Video Calls, Gmail, Outlook, MS 365, Yahoo, iCloud, iMAP etc

Phone and video calling combined as one tool inside of Command Center. Make and receive calls as well as get voicemails automatically transcribed to make life easier.

TeamChat enables you to organize internal conversations into channels, direct message, @ mention, and annotate over photos so your team can communicate productively, quickly, and effectively. Unlike Inbox, TeamChat is specifically designed for internal conversations within your team.
Sign up for a free Command Center here
Read all about Command Center and in-depth articles about the features here
Inbox
Access all of your favorite client channels - email, text, and social media - right from one central platform. With convenient ways to pin, attach, and label, make conversations easier than ever before.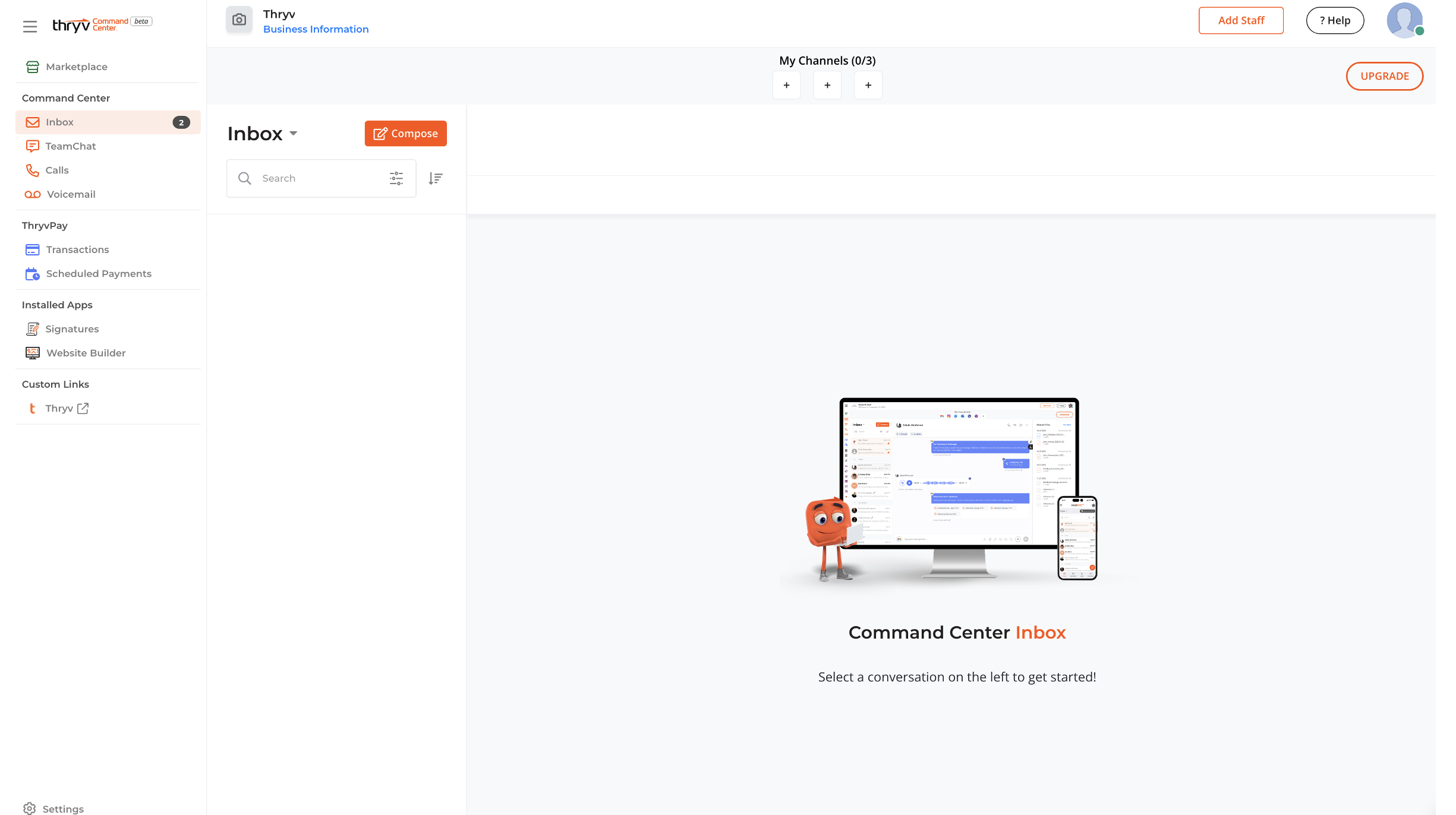 Phone and Video Calls
Voice and video calls all in one place - transcribe your voicemails and make communicating with clients a breeze.
TeamChat
Never miss a message from your staff - organize your conversations, send direct messages, and communicate on the go.
Marketplace
Command Center will have integrations and product offers for you to enable on your own right in the Marketplace.
---
2. Thryv Marketing Center
(Launch Date: 8/1)
We are thrilled to announce that Marketing Center is expanding globally into Australia and Canada!
Thryv Marketing Center is now its very own standalone product that you can utilize on its own or in conjunction with a Thryv Business Center or Command Center.
Read more about the Marketing Center product by clicking here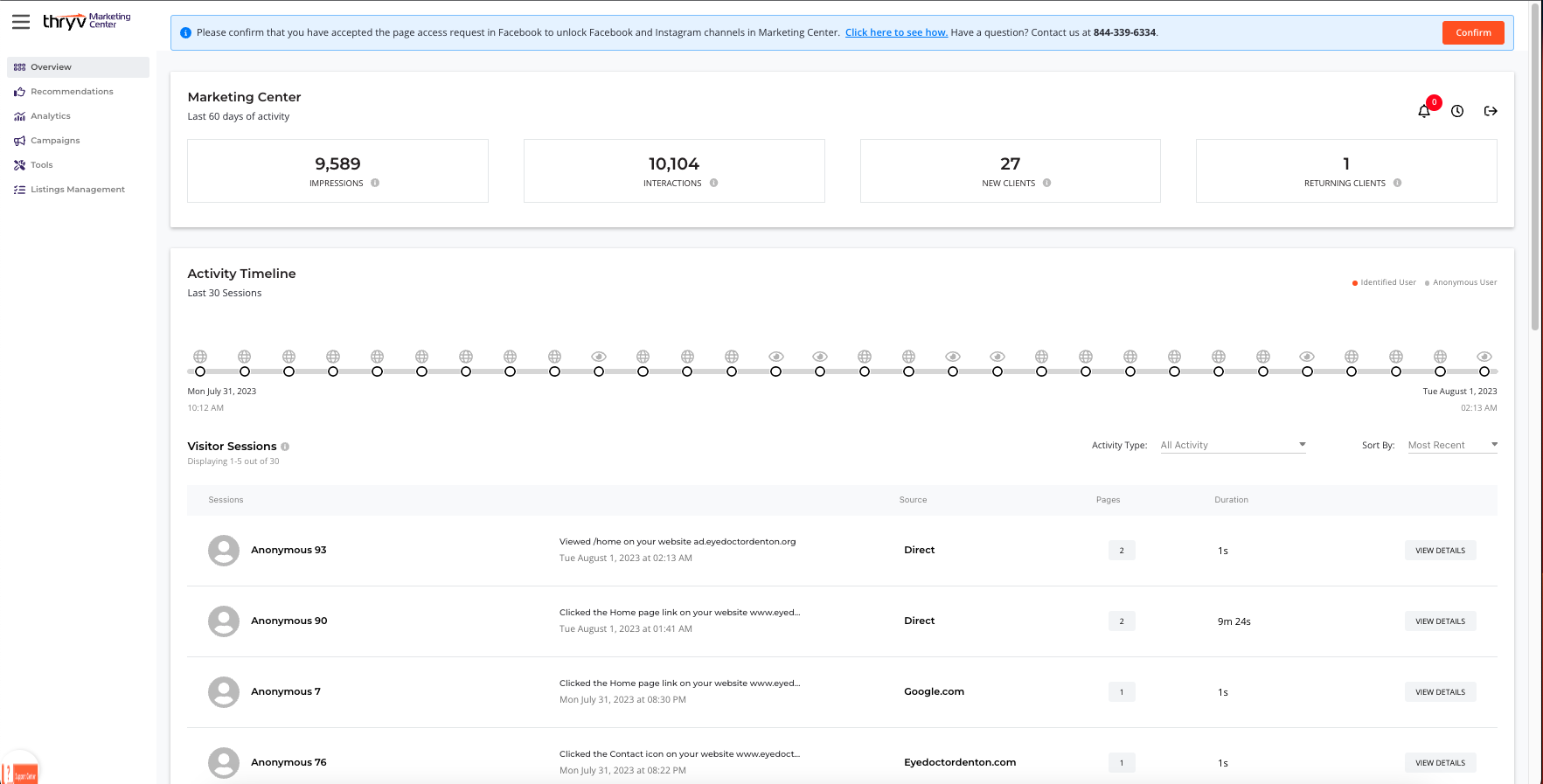 ---
3. Website Builder
(Launch Date: 8/1)
Having a website is essential for a you because it establishes an online presence, enhances credibility, expands customer reach, serves as a marketing tool, and provides valuable analytics. We just launched a new design-it-yourself website builder that will give you the power to create a custom website for your business or personal needs.
Details
Online Presence - A website serves as the online presence for your business, making it easier for customers to find you online. It allows you to showcase your products and services, provide contact information, and offer customer support.

Credibility - In today's digital age, a business without a website can be seen as less credible. A website shows that you take your business seriously and have invested in establishing a professional online presence.

Customer Reach - A website can help you reach customers beyond your local area. It can attract new customers from different geographic locations and can be accessed 24/7, even when your business is closed.

Marketing - A website is a powerful marketing tool that can help you promote your products and services. You can use your website to create and share content, run promotions, and engage with customers through social media and other channels.

Analytics - A website provides valuable data and analytics about your customers and their behavior. This information can help you make informed business decisions and improve your marketing strategies.
With our "Build It Yourself" option, you'll be able to design your website exactly how you want it. Plus, you'll be able to test out the editor and play with the design and will not have to pay until your site is ready to be published!
One of the best parts of this new feature is that you can create as many draft sites as you'd like, and view them all from a central dashboard at any time.
You'll find the DIY Website Builder in the Thryv Marketplace.
*note pricing varies per country/location
Read the article to learn more by clicking here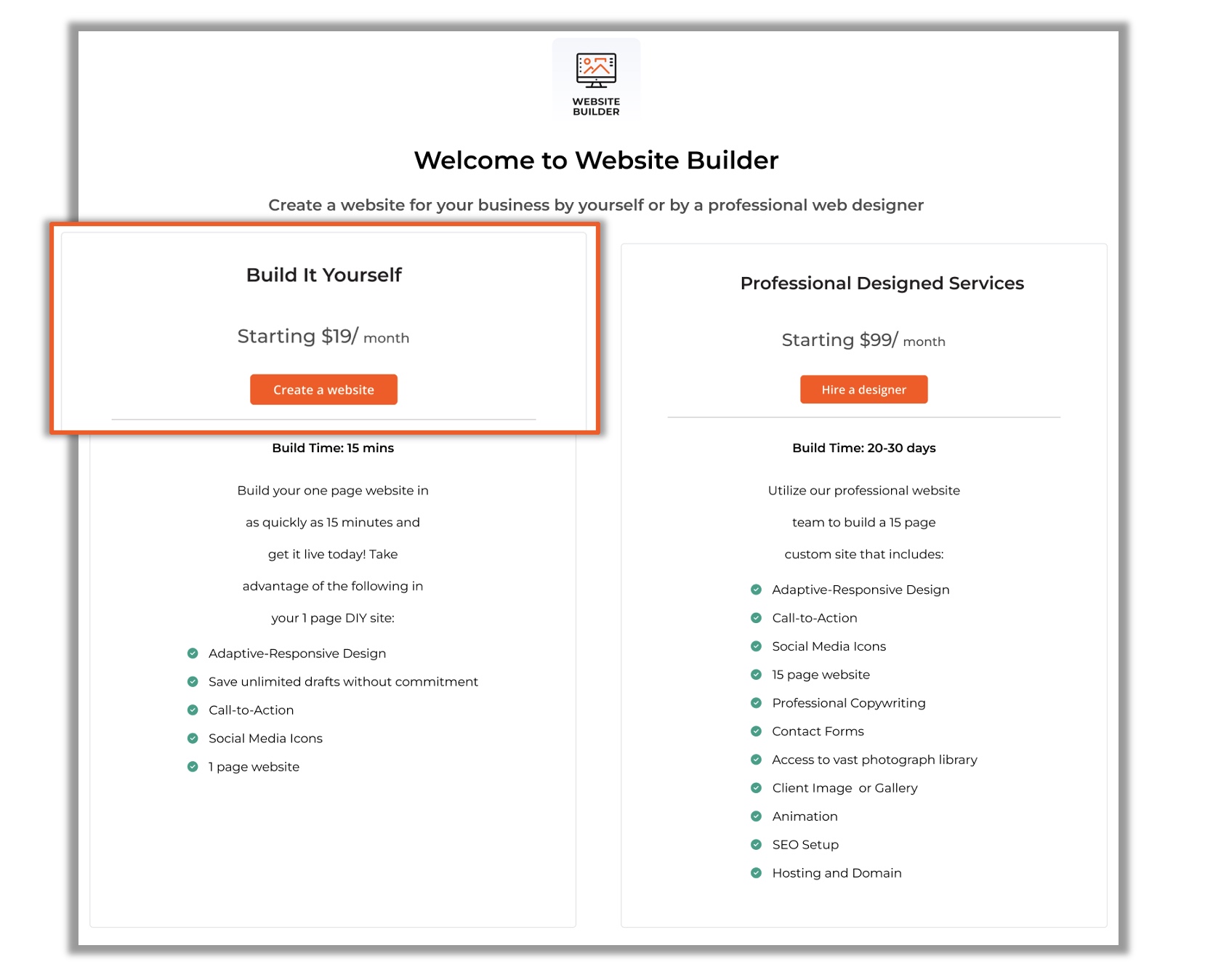 *note pricing varies per country/location
---
Improvements
Here are a few cool new improvements we have releases this week or coming soon up help you use Thryv efficiently. 
1. Thryv Business Center
(Launch Date: 8/1)
The Thryv Platform you know and love today has rebranded to Thryv Business Center.
The product has not changed and you will still log into your account as normal the only difference is the name.
You will see the new logo on the top left corner and the name will now be Thryv Business Center.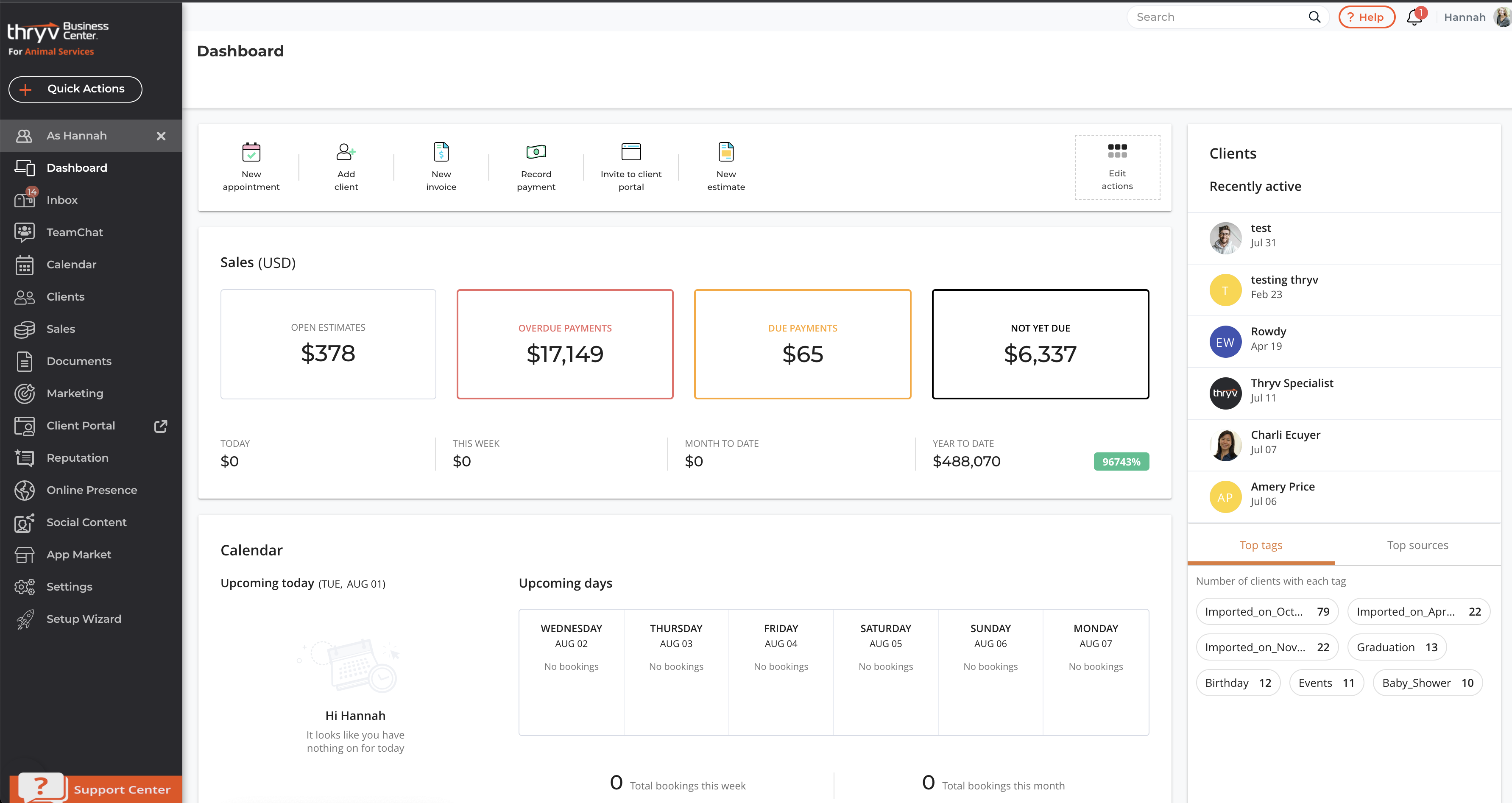 ---